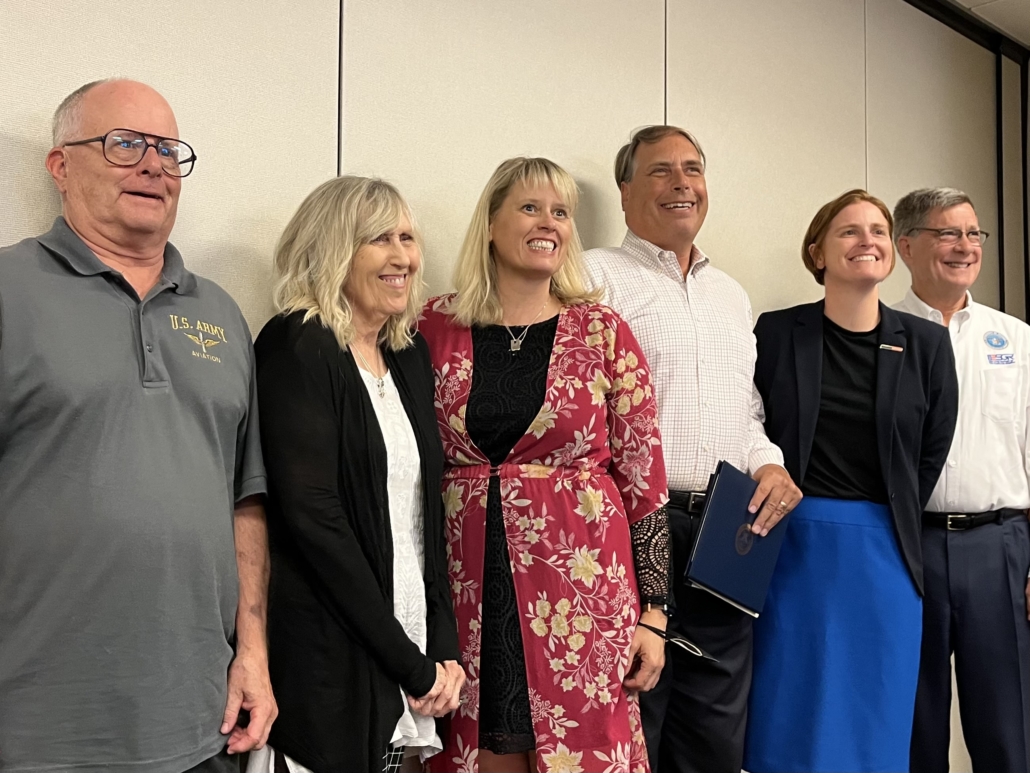 On August 24, 2022, LGN Partners Rob Shelquist and Rebecca Peterson each received Patriot Awards in recognition of their support of the National Guard and Reserve. They were nominated for this award by LGN attorney Catherine Peterson, who has served in the North Dakota National Guard since 2008. The award is given by the Employer Support of the Guard and Reserve (ESGR) program, an office of the Department of Defense established to promote cooperation and understanding between Reserve Component Service members and their civilian employers. The award recognizes employers' efforts to support citizen warriors by providing understanding and healthy work environments that offer flexible schedules, including time off for training and deployment.
Cathy, who served in two deployments to the National Capital Region, in 2013-2014 and 2017-2018, is also an extremely talented lawyer and a vital member of LGN's Product and Consumer Litigation team. During the awards ceremony, she thanked Rob and Rebecca for their support, noting that flexibility in her work schedule "is a huge stress reliever: employers take on a sacrifice when they employ members of the National Guard and Reserve who have commitments not only to their civilian job but also to the military. Employers and supporting colleagues and staff have to figure out a way to adapt when a Soldier has to leave. And Rob and Rebecca's willingness to do this has made balancing my civilian job and military service very smooth."
LGN is extremely proud of Cathy's service and of Rob and Rebecca's efforts to support her, and we wish Cathy the very best in her next deployment, which starts in October.
https://www.locklaw.com/wp-content/uploads/LGN-SolidCircle-300x300.jpg
0
0
Ben Stacer
https://www.locklaw.com/wp-content/uploads/LGN-SolidCircle-300x300.jpg
Ben Stacer
2022-08-26 16:20:58
2022-10-05 17:04:16
LGN Partners Receive Patriot Awards